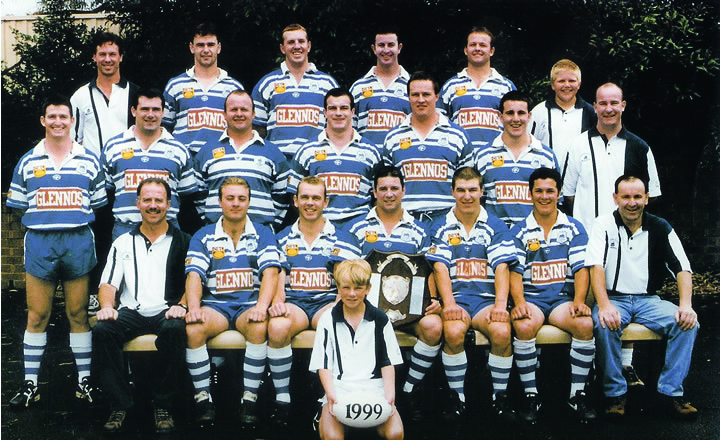 In 1999 there were a few changes within the club. Phil Ostwald and Daryl Crosland still coached first and reserves, but we had Rod Henderson and Paul Scibberas appointed as coaches of the Under 18s. As an innovation, the 18s competition would be run in line with first and second grades. We started the year with modest aspirations after losing a large number of first graders from the previous year. The task was made more difficult when Berkeley withdrew from the competition early in the season, forcing the league to modify the draw. Thirroul ended up having to play league heavyweights Collegians, Wests & Dapto three times, were one of only three teams not to have a bye and had one less home game then the other teams.
In our first competition game footy legend Changa Langlands kicked off for his old club Wollongong and the Bulls were all over us, leading 20-nil at half time. But in the second half we turned on the power and ran out winners 24-20 in a great come from behind victory. After this great win the team fell into a heap. We lost a lot of games and with half the season over we had only three wins and were coming third last. Surprisingly the team was growing in confidence and when things clicked we went on an unbelievable streak, winning 9 consecutive games until we were defeated by Dapto 24-20 in the last competition game of the season. During this time we received a boost with the return in late June of one of the club's favourite sons, Brett Jones who was back after a few months with Tugan. After the slow start, the Butchers had done enough to fall into fourth place, while the 18s were also into the semi-finals.
The minor semi final was a very tight affair again against Dapto, but this time we won 13-6, with Ben Couchman and winger Lee Fowler outstanding. Meanwhile our 18s were into the major semi against Corrimal and the Cougars led 8-6 at half time. The young Butchers stepped up a gear in the second half, running in six tries to win 40-8, Tony Leadbitter scored four excellent tries and the lads were into the grand final.
Our Firsts then played the final against a strong West side and we led the Devils 14-8 at half time after an inspirational speech from Mark Nolan before the game. In the second half Thirroul played magic football, scoring five tries and keeping Wests scoreless. Shane Scibberas landed seven goals in the 42 – 8 win. With two teams in the grand finals the village of Thirroul provided great support for the Butchers with most shops decorated in blue and white steamers and posters "Butchers To Win".
Our under 18s kicked off the day with a magnificent 44-16 win over Collegians. Player of the match was Tony Leadbitter. Shannon Jarvis and Ben Morgan both had outstanding games. The premiership side was: T. Hart, J. Gunning, B. Morgan, T. Leadbitter, G. Woods, D. Brown, J. Millington, S. Jarvis, J. Storer, B. Kennedy, T. Sewalt, R. Powell, L. Turner, B. Gava, S. Grose, D. Perkiss, L. Scard, J. Jarvis, H. Oliver, S. Johnson, L. Mitchell, B. Leadbitter. Coaches were Paul Sciberras and Rod Henderson. Manager – Ray Millington.
The first grade team enjoyed a good lead up week and were relaxed and confident even though inspirational captain Blake Eager had been told his knee cap had been fractured in the final against Wests. Blake would still lead the side onto the field in the Grand Final and would go on to have a fine game. Collegians were favourites, but the opening set in defence set the scene for what was to come. Firstly Brett Jones attacked big Collies prop Adam Canavan straight from the kick off. Then Paul Air shot out of the line to crash tackle the next runner, who lost the ball, forcing a scrum. Soon after Blake Eager crashed over near the posts for a try in the second minute of play. By half time Paul Air had scored and so too had flying winger Lee Fowler after collecting a bomb. The Butchers now held a 20 to 4 lead over their opposition.
Collies came back in the second half and reduced our lead to 10 points, but once again the Butchers played brilliant open football and Todd Grose scored after good lead up work by Fowler and Dean Jones. Another try came from Evan Stray and Luke McDonald displayed his individual brilliance to set Ben Couchman up for the final try. Once again Shane Scibberas kicked successfully under pressure and contributed six goals in Thirroul's magnificent 40-12 thrashing of Collegians. Ben Couchman was named player of the match. The team played exactly like a good team should, with every player contributing and doing their best for one another. Celebrations at the Thirroul Leagues Club went on till the late hours and a few players still had enough energy for a few laps of Gibson Park early Monday morning in the full monty. The season had many stars, but Cronulla junior Luke McDonald, in his first year with the club was the find of the season. The classy fullback was among our best every week. His combination with wingers Lee Fowler and Craig McLean meant we always started our attacking sets on the front foot. Club Juniors Ben Couchman and Aaron Beath had returned from the Steelers and added a balance of skill, enthusiasm and competitive attitude that would see them become the backbone of our team for many years to come. The premiership side was: L. McDonald, L. Fowler, S. Sciberras, T. Grose, C. McLean, E. Stray, P. Air, B. Couchman, D. Jones, B. Jones, B. Maguire, B. Eager (c), A. Beath, D. Dalton, J. Costello, B. Morgan, S. Jarvis and M. Roodenrys. Coach P. Ostwald, Manager I. Jones.