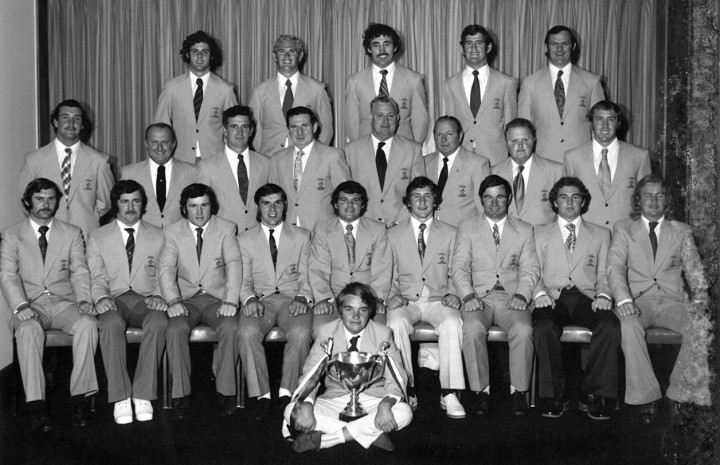 1973 Premiers. Top: Mark Nolan, Stephen Ross, Alan McRitchie, Ray Millington, Ian Grose. Centre: Charlie Bennett, Les Griffin (trainer), Harry Oxtoby (trainer), Greg Anderson (treasurer), Jack Armstrong (secretary), Bruce Cambridge (president), Ray Hunt (manager), Graham Seymour. Front: Peter Nolan, Peter Dickenson, Aiden Beath, Gerry Gelovan, John McCarthy (capt/coach), Les Mara, John Floyd, Maurice Stynes, Jon Sutherland. Ball boy: Ian Blakney. Absent: Arthur Fogg.
After losses to the Wests in the GF in the previous two years, the Butchers emerged supreme defeating the Devils 8-6 in a nail biter. A crowd of more than 12,600 packed Wollongong Showground to see Thirroul's second ever First Grade Premiership their first in 19 years. It was a memorable match with the Butchers fighting back after the Devils led 5-4 at half-time
It was a fitting reward for John McCarthy who in his four years with Thirroul had taken us into a final and three grand finals – all against Wests. He had scored 776 points in this period – 10 tries, 362 goals and 14 field goals.
But it was a team effort. The Butchers pack led by McRitchie, Grose and Bennett stormed over the Devils. Wests backline could not split our defence with big games from veterans Dickenson and Fogg in the centres. The Illawarra Mercury had a few words: "Perhaps the hero of the game was hooker John Floyd who won the second half scrums 18-5 to blot Wests out of the game….The Butchers unleashed a second half blitz that shook the defending premiers to their bootlaces." Floyd wanted to come off at half time with a bung arm, but Magic Fingers Les Griffin patched him up with a few needles. Jon Sutherland had a great game at full back until injury forced him off. His replacement was Mark Nolan from the Under 18s. He was ice cool under pressure and had a fine game as custodian. The Leagues Club monthly publication "Up the Butchers" reported: "Our glorious, mighty Butchers were magnificent, supreme and just too good for Wests. At the end supporters were nearly delirious. What a fairy tale the whole business was this year." The team of heroes and reserves were: Sutherland, Stynes, Fogg, Dickenson, Peter Nolan, Mara, McCarthy, Beath, Geloven, Bennett, Grose, Floyd, McRitchie, Mark Nolan, Ross, Millington, Seymour and Barnaby. Manager Ray Hunt.
Two of our top players of the early 70s – John Air and John Stanford – missed out on the grand final because of early season injuries. This was a shame because Slappy & Cheesy had each contributed so much to the club over many years. Incidentally Aiden Beath also won the best and fairest award for the season and collected a car in a media award contest. We had also lost rep lock Alan Davie that season, but we were lucky enough to have Beath slot into our pack with great success.
The celebrations lasted several days. Not even a blackout at the Leagues Club on the night of the premiership triumph could dampen the mood. Electricity restrictions were in force in the Illawarra at that time. The county council official that selected
Thirroul that night must have been a Devils supporter. The Reserves had another good season reaching the final, but were beaten 11-3 by Corrimal. Lock forward Bob Cook won the team's best and fairest award, while Millington was a tower of strength in his conversion to the forwards scoring three tries and kicking 33 goals for the season. It was also a big season for Ron Wall scoring 26 tries – two with Firsts, 18 with Reserves and six in Third grade.
Also champions that season were the Under 18s, coached by Macca. What a double for our diminutive half. The young Butchers beat Corrimal 13-5 in their semi and 10-7 in the grand final. The side included five Illawarra rep players – Alan Stenning, Tony Trudgett, Rod Patison, Mark Nolan and Jack Jeffries. In the grand final John Paduch and Bill Corbett scored tries and Nolan booted two goals. Others in the victory squad were: Geoff McWilliams, Tony Bate, Tony Bland, Gerard Magee, Glen Hunt, D. Barnes, Tim McLaren, Ludi Strojny, Mark Miller, Tony Oliver, Gerry Keene and John Mey.