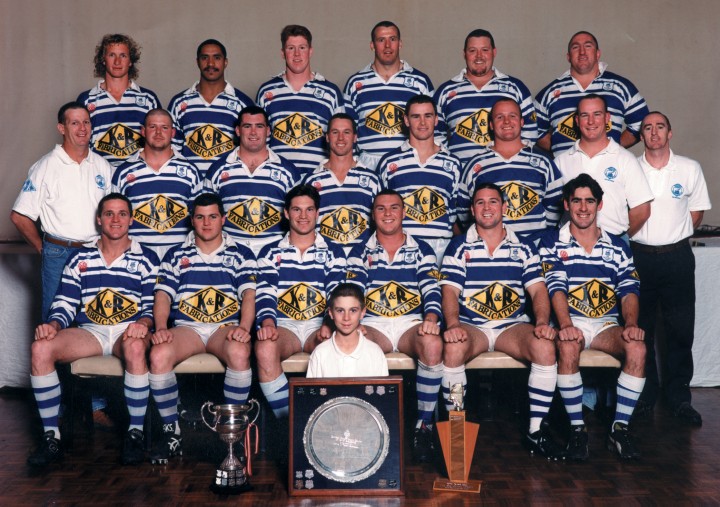 The 1995 Thirroul team which went through the Carlton League undefeated: (back row): Roger Hill, Tamaiti Amosa, Martin Sedgwick, Sean Taylor, Len Barton, Keith Cole; (middle row): Ron Wall (coach), Glen Sellars, Todd Grose, Mark Taylor (captain), Paul Air, Brett Jones, Steve Rutledge; (front row): Dave McElhone, Mark Pickles, Michael Locke, Adam Sargent-Wilson, Blake Eager, Glen Cahill, Ryan Jackson (ball boy).
We had to wait 22 years for our next First Grade Premiership, the club had struggled through much of the 80's and early 90's, but 1995 was to be the year of the Butchers. The following season summary was provided by inspirational 1995 Captain/Coach Mark Taylor:
Undoubtedly a special year in our clubs history was our 1995 premiership season. There were quite a few positive factors that contributed to the success of our club in 1995 and these would be the foundations of our phenomenal success of years to come.
First of all there was some brilliant leadership shown by our committee of 1994 led by John Air and Arthur Osborne, including securing some major sponsorship for the club. We subsequently started our long term and invaluable affiliation with the likes of K & R Fabrications and Glennos Constructions. Secondly, our junior ranks were emerging with some fantastic talent that would provide a stable of local players for the next decade and beyond.
Under the guidance of Brett Jones in 1994, our first and reserve grade teams made the playoffs for the first time since 1987. No doubt this was a fantastic boost to our momentum going in to the 1995 season.
he convergence of experienced coaches, players and committee was nothing short of ideal for me as the incumbent head coach. A new executive committee comprised of Aiden Beath, Mike Andrews and Kevin Anderson were to carry on the great work, layed down by John and Arthur. Reserve grade coach Ian Russell (My old mate from our 1984 Steelers President Cup winning side) and third grade coach Darryl Crosland (My even older mate and legend Thirroul Butcher and Steeler) were two confidants I was more than pleased to have on board. I was also thrilled to score the services of one of my childhood idols in Ron Wall as my assistant coach who proved invaluable for me, not only as the off field coach but Ronny was a perfect fit for the style of football we were about to promote. Another priceless asset was old mate Terry Gilogely, who did an absolutely fantastic job in skills, conditioning and strapping throughout the year. Steve 'Chalkie' Rutledge added some great value as manager to complete my team. All of these guys were not only bringing their vast experience to their respective positions, they were passionate about our club and making something of our opportunity that year.
Recruitment had started simply by word of mouth. I don't actually recall having to make too many phone calls in the pre season – people are coming to me and telling me rumours of people who were keen to play in the upcoming season and I couldn't wait to bring back the learning's of my previous three years with the Illawarra Steelers.
I was also excited to get back to my home club knowing we had plenty of keen, talented local lads, primed to improve on the previous year's achievements. Brett Jones had handed the coaching reigns over to me after his successful year in 1994 and he confirmed he was to be a player in 1995. Brett had plenty of NRL experience with the Steelers and had later played in France. Brett and I hadn't played together since Tim McLarens' 1987 minor premiership team, so I couldn't wait to be running off Homer again that year. He had a solid year and would probably be the first one picked, week in week out. I had made a statement back in the times when the Butchers were doing it tough, that I couldn't wait until the likes of the young Air and Jones boys would come through the Junior ranks into grade – that time had come. Paul Air had shown his talent as a twenty year old by winning the Illawarra Player of the year in 1992. Paul was on board in 1995 and had further matured after some experience in previous years with Illawarra. Paul would go on to be one of the greatest Butchers for years to come (who knows, you still may see him out there today). Other local juniors we welcomed back were big Keith Cole (who had a ton of Sydney football experience with the Steelers and Souths). Keith would later play a major role in our Grand final win. Talented ball player Adam Sargeant-Wilson was the perfect five eight to fit our style – Adam had a favourite call of "Broncos", which meant throw it around (didn't matter what tackle or where you were on the field). Todd Grose (son of legend front rower, Ian) would terrorise the opposition with his Eric Grothe style of play (and loved playing on the wing…. NOT). Other local juniors who made faultless contributions to the side throughout the year were reliable hooker Troy Jones and the ultra versatile Mark Wilkinson.
t's important to recognise the contribution the local boys provide to our clubs' spirit, the loyalty to our colours and our town, a resolve to never give up and although we will always invite talent from afar, they would always need to fit in with these values to be a true Thirroul Butcher.
Apart from the local boys, we had a convergence of other players from the area jumping on board. I had just started working with Blake Eager, who had shown some interest in coming over – Blake had plenty of experience in the Illawarra League and would prove himself to be one of our most valuable players of the year and of years to come. Blake's commitment to training, our team and our club was second to none. He found his home at Thirroul and went on to become a great player and clubman for the Butchers. Some of our other key signings included New Zeleand born Tamaiti Amosa – a fleet footed centre who topped the Illawarra League try scoring tally for the season. Tamaiti's center partner was big Sean Taylor – a local Helensburgh product and our reliable goalkicker (size 17 boots) Sean combined a treat with Tamaiti creating havoc out wide. Collies junior and Surf Club Champ, Michael Locke, came to us as a hooker and made it his position with weekly faultless performances. Lockie was possibly the fittest player in our side and his reliability around the ruck and support play was second to none. Former Metropolitan player Roger Hill was also a new signing and his contribution as a tough and tireless worker was more than welcomed. Two of our other players that had come down from the local Norths side the previous year were speedster Glen Cahill and the pocket Rocket Mark 'Piston' Pickles. Glen's pace surprised many as he left defenders in his wake on his way to another touchdown. Unfortunately Glen was sidelined later in the year with a serious elbow injury and missed starting in the GF. Former Australian beach sprint champion, Dave McElhone would take Glen's place in the run on side for the remainder of the season. Dave had speed to burn and could score from any position on the field. Mark 'Piston' Pickles was the ultimate tackling machine and had energy to burn (probably one of our smallest yet toughest players) Piston did a lot of the clean-up work at lock and muscled his way forward at every opportunity – another invaluable asset to our side. Two other local Norths boys to join the ranks for 1995 were Len Barton (returning from grade with Cronulla) and former Illawarra Junior Rep Glen Sellers. Lenny was a colourful front rower with freakish ball skills and plenty of speed for a big man. He also provided plenty of off field antics for the boys and sometimes headaches for the coach. Lenny was to take out the Illawarra Player of the year award for 1995 which just about says it all about his fantastic season. Lenny's good mate, Glen Sellars was a tireless backrower whose work ethic on the field was unsurpassed. I do remember one rare game vs the Cougars during the season that things weren't quite going to plan. Most of us were feeling the frustration of not being at our best and this just led to making more mistakes and wrong decisions. Glen stood out from the crowd, simply because nothing ever fazed him. He would come up with the goods, week after week as he did in that game. He would later take out a well- deserved Best and Fairest Award for 1995.
The regular season had started as well as we could have hoped. We took out the Illawarra Seven's Comp undefeated and later the pre-season knockout also undefeated, smashing the Devils in the Final 49-20. Some further pre-season trials had us fine tuning our skills and the team just clicked like a well-oiled machine. I remember the buzz in the dressing shed after one of the early home games and the guys were already talking up an undefeated season (I liked the aspiration but knew we still had a lot of work to do to achieve this goal).
The competition was upon us and in general we played some great attacking football. We had no shortage of 'go forward' with a pack like ours and plenty of speed to play off the back of it. We would attack from any position on the field, including from a kick-off (one of our favourite plays). I don't think the opposing sides knew what hit them at times. Defensively we were not as efficient and looking back on our season we clocked up a record amount of points but didn't win any games to nil.
Later in the season we received another quality player to the ranks. Thirroul junior Martin Sedgewick had returned from stints with Souths and Illawarra Presidents Cup squads and added yet some more grunt to our side. This was no doubt a dilemma for the selectors as we were cruising along just fine at the time. Martin got his start when Glen Sellers was ruled out of the second last comp game and he took his opportunity having a massive game versus Dapto at Dapto Showground. The next week Glen was made available and after some serious contemplating among the selectors, Martin was to be in the run on side (Glen back to Reserves) The decision was not unanimous and it was not easy for me to break the news considering Glen's season thus far. The final game of the regular competition Glen would then suffer a serious arm injury and miss the finals.
We had won the minor Premiership and broke plenty of records along the way. All four grades made the final series. The semi finals comprised only four teams and we were due to play Dapto in the major.
The First Grade major semi final vs Dapto was definitely a step up, and for some of us, including myself, it was uncharted territory (I had played briefly in our 1987 final and before that was our U18's premiership in 1981) The semi final was no walkover, although I did feel we were well in control. Dapto had grown a leg and threw plenty at us coming within a converted try. Blake Eager had a blinder, providing two gutsy solo tries at crucial stages of the game. Martin Sedgwick was great up front and Mick Locke busy as usual. Overall it was good win and we ran out winners 36-24. Wests went on to smash Dapto in the final and so we were to meet them in the Grand Final.
The 20th August was an unusually hot winter's day and this heat may have played a major role in our substandard effort in the first half. After an early try by Blake off a Lenny Barton special we seemed to fall in a big hole.
Our usual 'go forward' had gone missing and there was a severe lack of urgency in defence. Two tries by Wests captain Matt Reh and another to follow put Wests in front at halftime by 16-6. This was the first time we had been behind at the break all season and I was distraught. I had seen the Butchers last premiership win in 1973 as a nine year old and knew these opportunities didn't come round too often. There were 8 thousand spectators in the ground that day and more than 7 thousand would have been our supporters. Our town wanted a premiership and we had to deliver. My halftime talk was full of emotion and we knew we had to get back to basics to gain some momentum.
It took some time to regain our mojo. Sean Taylor crossed over out wide and soon after, converted a penalty goal. The machine had just restarted. A typical Martin Sedgewick burst and offload to …yes that man Blake Eager who crossed over out wide to level the score 16-16. Soon after another typical combination between big Sean and Tamaiti put me into a hole and with just a winger to beat we were under the posts to go ahead 22-16. Our forward pack had plenty of momentum now with big Keith Cole leading the way. Another attacking raid on Wests line and on an early tackle, Adam Sargeant Wilson gave me the ball just outside the 25m for a shot at a 1 pointer and it was good. I guess we were all somewhat relieved at this point, now having that buffer after being behind most of the match.
Wests came back at us with a dodgy try under the posts and it was game on for the final minutes with the score at 23-22. Anxious moments as the Devils made their way back within meters of our tryline until back rower Steve Bosse tapped the ball forward in the ruck and was subsequently penalised by referee Alan Sercombe as Mark Pickles had slipped himself into marker just in time. The siren sounded, Sean Taylor locked up the ball for one last run and the premiership was ours.
I can't describe the feeling – our first premiership in 22 years, our third in the history of the club and an undefeated season in front of our town. I was so proud and so happy, not only for our players and club but also for the supporters who had stuck with us throughout the years.
BUTCHERS FAIRY TALE
?THIRROUL 23 def WESTERN SUBURBS 22
And so they lived happily ever after… Thirroul's fairy-tale season had a happy ending when they scraped home against West's 23-22 in the Carlton League grand final at WIN Stadium yesterday.
It wasn't the big victory expected by many but whether it was one point or 100, It was a win and enough to put a big smile on Thirroul captain-coach Mark Taylor's face. "It was a little too close for comfort," Taylor said after the game. "For a while out there I didn't know if we could do it because we were so flat but we just concentrated on doing what we had done all year and got back into the game."??While the Devils relished yesterday's hot conditions, the Butchers looked like they had just stepped out of the cool room and struggled with the pace in the first half. The Butchers started strongly with a try by Blake eager off a Len Barton ball but started to fall away as the Devils turned up the heat. West's captain Matt Reh was first to cross the line and then repeated his effort five minutes later with another try from a move by five-eight Anthony James.?Fullback Nigel Thomas converted both tries to give the devils a six-point lead before barnstorming forward, Ivala Va,Ae-lua scored his first of two tries for the day.??"When we came off at halftime and were up 16-6, I was confident that we were going to win but full credit to Thirroul for the way they came back at us." Thirroul still looked flat when they came out in the second half but got on a roll after towering centre Sean Taylor scored in the corner.?A penalty, kick by Taylor put them to within four points and the Blake Eager levelled the score when he ran off a Martin Sedgwick burst and crossed out wide.??Thirroul stared to show the class which saw them go through the competition unbeaten when centres Taylor and Tamaiti Amosa combined to put Captain Taylor in under the posts.?Soon after Taylor potted the crucial field goal to give Thirroul a 23-16 lead.?But if the game was over, no-one had told the gutsy Devils as they continued to hammer Thirroul's defence with VaAelua finding his second.?Crunch-time came minutes before the end of the game came when Steve Bosse, who ironically was one of the Devil's best, was five metres from the line and thought there was no Thirroul marker. Bosse tapped forward but the referee ruled there was a marker and penalised West's.?The Devils continued to throw every-thing at Thirroul but time was against them and they were unable to find the needed points before the final bell.?"I guess it was a wrong option by Bosse but these things happen in the games and at the time, he thought it was the right thing to do," Ayliffe said.?"I couldn't fault any of the guys-they never gave up and I think that if we had a few more minutes we might have got them.?Thirroul's Mark Taylor said the win was the best of his career and paid tribute to the players and fans who stuck by Thirroul during their time away from the winner's circle "I've played with Thirroul since under sevens and we've been through some lean times but we've stuck it out and a win like this makes it all worth it" Taylor said.??"We had a few injuries in the lead-up to the game and the heat and lack of games really got to us but we came back in the end when it counted and I'm really proud of the whole team.
After struggling in all grades through the early 90's,1995 was to be the year of the Butchers,thanks to the efforts of our club committees, sponsors and influx of local junior talent.
First grade created records to win the minor and major premierships unbeaten throughout the season, Reserves won thier minor premiership and the Thirds reached the semis. As a result Thirroul won the club championship.
Vistory for Thirroul brock a 24-year-old club record in winning more than 10 grade games on the trot(12) held by John McCarthy's team in 1971. It also created our first unbeaten record.
we had a few heart stoppers. At home to Corrimal in June we led 20-0 at half time. The Coougars unleashed a great second half and we stumbled in 26-22. Thirroul won the grand final over Wests 23-22!
All players were gladiators on grand final day, but it was the captain-coach Mark Taylor who provided the Butchers with inspiration play that day-and all season. What an awesome pack we had on the paddock, backed up by a supremebackline-in defence and attack.