After a successful trial playing for Southern NSW Ryan Couchman has been selected in the NSW CHS team.
Ryan represented Southern NSW a few weeks ago in NSW Combined High Schools trials held at Collegians Complex- 3 big games in 3 days.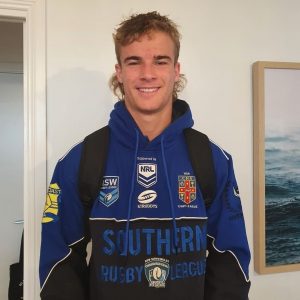 The Southern team defeat Northern in a wet game on the first day and they proved too strong for Western the next day.
Ryans and his team were matched against Sydney Red on the final day, and went on to become the only undefeated team of the carnival.
After 3 strong performances, Ryan was selected as a Second Rower in the NSW CHS team. They will know take part in a tri-series against NSW Catholic Colleges & NSW Independent Schools in June to be played in Penrith.
This tri-series (and its equivalent in QLD) will be used as a formguide to select the 2021 Australian Schoolboys team.
The club would like to wish Ryan all the best for the up coming games