It is we heavy hearts that we give you the news of Teddy's passing.
Last Thursday the 9th of January Teddy passed away peacefully at the age of 85, below is an extract about Ted from our 100 year anniversary book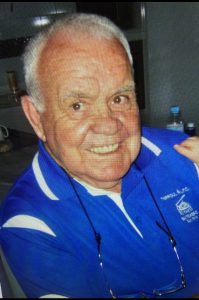 Ted gave long and valuable service to our club. When he joined Thirroul in 1958, he had a reputation as one of the game's best prop forwards. His representative career started early, after playing strongly in a Possibles versus Probables match in 1952 he forced his way into the Country Seconds team to play their City counterparts at the SCG on his 18th birthday. Two weeks later, Ted was in the Country Firsts team who took on a Metropolitan team, again at the SGC. Two Thirroul players were in this Country team, second rower, Bruce Smith and half and captain, Noel Hill. Metropolitan won a rugged match 27-18. The next season, 1953, Ted joined Temora, where he played for five seasons. In 1957, Ted was a key member of the Temora team who were awarded the Clayton Cup as the best country team in NSW. In 1958, his first season with Thirroul, Ted represented Southern Division against Great Britain. A tough prop-cum-second rower Ted was a core member of the Butchers pack over many years. A knee injury in 1966 caused Ted to retire after eight seasons with the club and well over 100 first grade games. After retiring, he became an Illawarra, Southern Division and Country selector. He was also a NSW selector in 1981. Ted also coached Thirroul reserves and the under 21s in 1967.
FUNERAL DETAILS:
Relatives and friends are invited to attend Teddy's funeral service to be held in the chapel,
Parsons Funeral Home, Bulli
278 Princes Highway Bulli,
Tuesday 14th January 2020
2pm